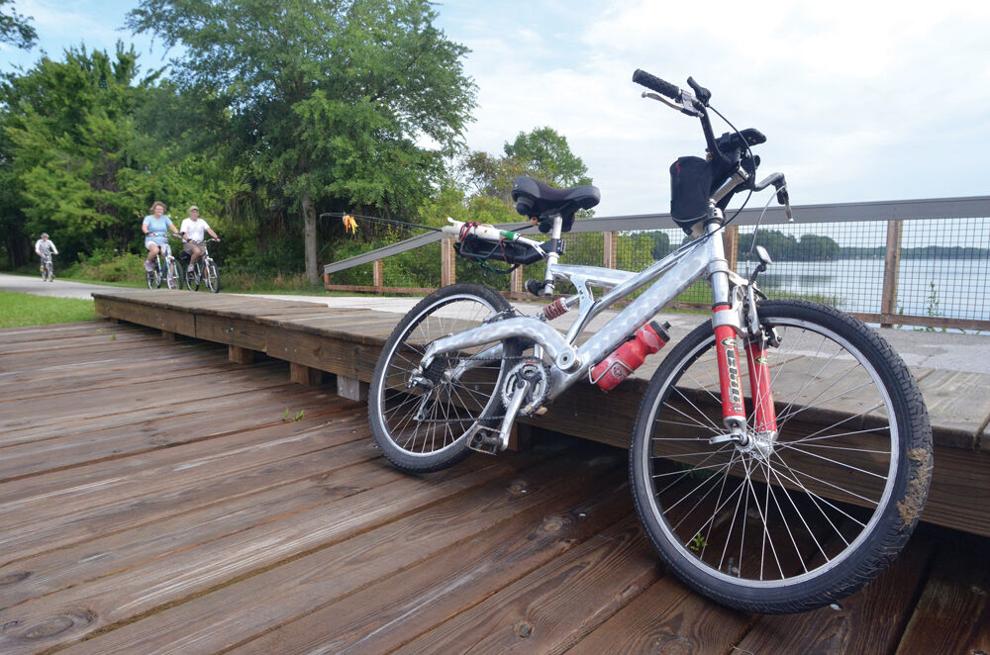 The Withlacoochee State Trail plays host to a variety of activities. A surprising number of residents relocated here because of it, many use it regularly for recreation, some use it to commute to work or school, others train on it, and a dedicated group devotes many hours to its upkeep and improvement.
Details may vary, but all agree that it's one of the best trails in the state and even the nation.
The "Rails to Trails" as locals call it, is a 46-mile stretch of converted railroad track suitable for hiking, biking and skating. Horseback riding is available on a separate trail alongside the paved trail. It is currently one of the longest paved rail-trails in Florida and has been designated as part of the Florida Greenways and Trail System, as well as a National Recreation Trail. In short, the trail is over 761 scenic acres, a nature lover's paradise!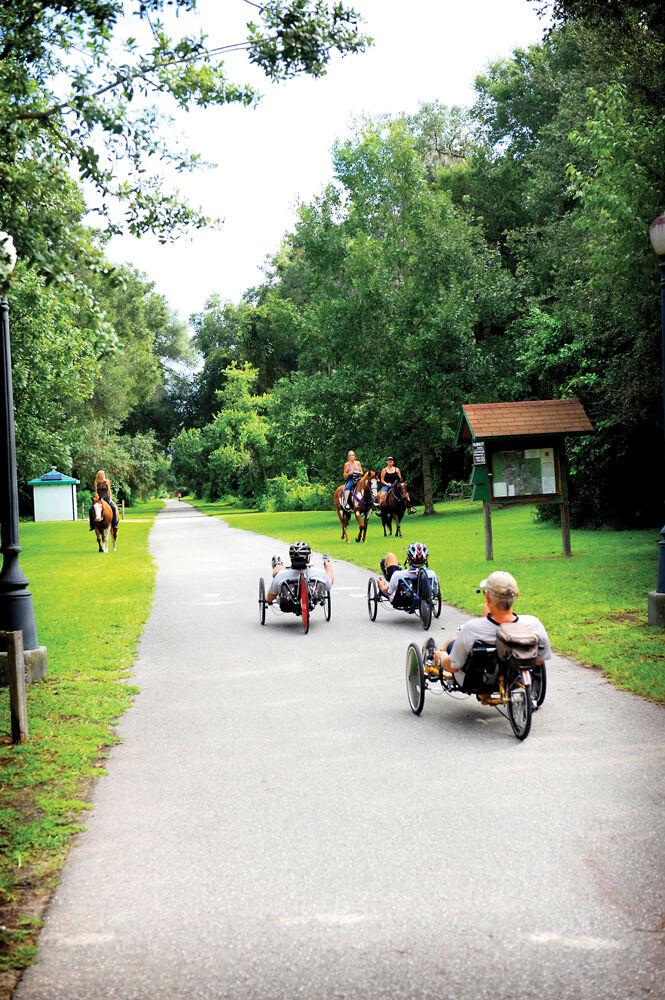 The trail offers great scenery, from the lake views in Inverness to the south end where the Withlacoochee River comes close to the trail, you can see an abundance of wildlife. The trail passes by many cattle and horse ranches, but you can also see turkeys, racoons, opossums, armadillos, whitetail deer and tortoises. It is a great place to bird watch and you may even see the occasional bobcat too.
The trail lends itself to a natural beauty, passing through small towns perfectly located for rest stops. You only have to ride five or 10 miles to reach each town. Hernando, Inverness and Floral City all have ice cream shops, cafes and taverns within minutes of the trail. Leave your bicycle outside and enjoy a nice meal at one of the many restaurants along the way.
Inverness and Floral City also have museums, gift shops and art galleries to visit along with citrus shops and farmer's markets.
The trail also runs through several parks in the county. Just south of the Inverness trailhead, the trail provides entrance to Fort Cooper State Park, a 700-acre park that marks the site of a fort built in 1936 during Florida's 2nd Seminole War. The trail follows the path of 16th Century Spanish explorer Hernando DeSoto. When you walk the trail, you could actually be walking in the footsteps of DeSoto.
The Florida Department of Transportation is working on a new Withlacoochee Rails to Trails connection. This tunnel will combine the Withlacoochee State Trail in Citrus Springs with the Dunnellon Trail off County Road 39. The Dunnellon Trail is not as lengthy as the Withlacoochee State Trail, running only about 2.5 miles.
The Dunnellon Trail serves as a connector into the city of Dunnellon and to the Marjorie Harris Carr Cross Florida Greenway. Along the Dunnellon Trail, cyclists pass by the Withlacoochee River through stands of cypress. The tunnel will connect the Withlacoochee Rails to Trails with the Dunnellon Trail along U.S. 41 within the next year. Riders will be able to safely cross U.S. 41 from Citrus Springs to the Dunnellon railhead.
The Withlacoochee State Trail can be accessed at six different trailheads:
Gulf Junction Trailhead, located just south of Dunnellon. Turn west on Martinelli Blvd off of US 41, then south at Magenta Dr.
South Citrus Springs Trailhead, located off U.S. 41. Turn west at West Citrus Springs Boulevard in Citrus Springs.
Inverness Trailhead, located off U.S. 41 at 315 N. Apopka Ave. in Inverness.
Ridge Manor Trailhead, located off of U.S. 98/State Road 50. Turn north on Croom Rital Road.
Trilby Trailhead, located about 1 mile west of U.S. 98 on Trilby Road. (County Road 575) in Trilby.
Owensboro Junction Trailhead, located just south of the Trilby Trailhead, approximately 1 mile south of the U.S. 98/U.S. 301 junction on U.S. 98.
Information is available by calling 352-726-2251 or at the following websites: https://www.rttwst.org/.