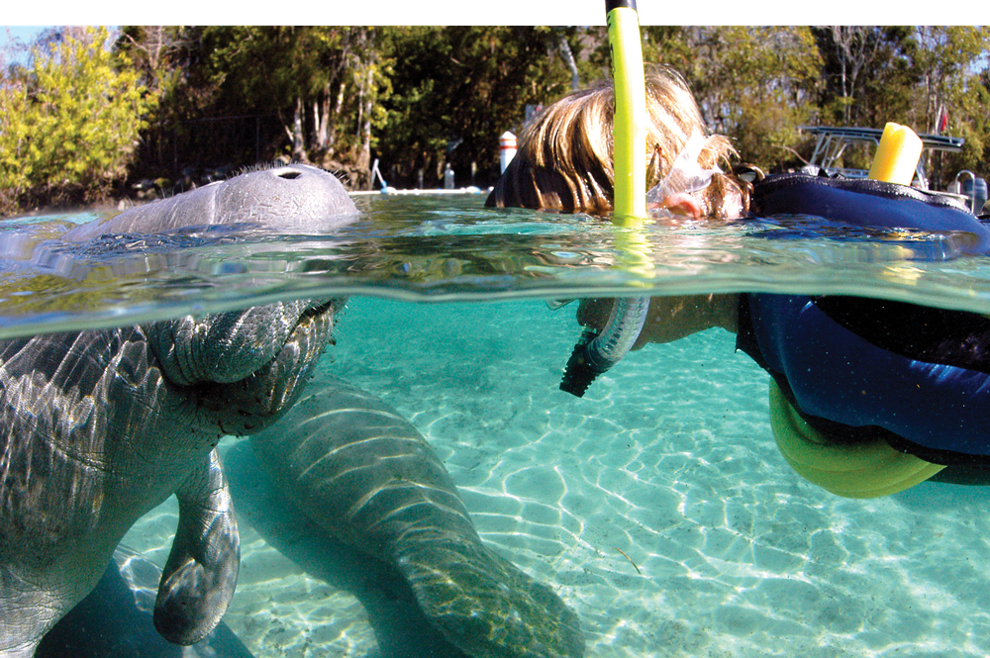 The West Indian manatee is an endangered species and is protected by state and federal law. Harassment is defined as any activity that alters the animal's natural behavior.
Look, but don't touch manatees. Also, don't feed manatees. If manatees become accustomed to being around people, they can alter their behavior in the wild, perhaps causing them to lose their natural fear of boats and humans, which may make them more susceptible to harm. Passive observation is the best way to interact with manatees and all wildlife.
Do not pursue or chase a manatee if you see one while you are swimming, snorkeling, diving or operating a boat.
Never poke, prod or stab a manatee with your hands, feet or any object.
If a manatee avoids you, you should avoid it.
Give manatees space to move. Don't isolate or single out an individual manatee from its group, and don't separate a cow and her calf.
Keep hands and objects to yourself. Don't attempt to snag, hook, hold, grab, pinch or ride a manatee.
Avoid excessive noise and splashing if a manatee appears in your swimming area.
Use snorkel gear when attempting to watch manatees. The sound of bubbles from scuba gear may cause manatees to leave the area.
Float at the surface of the water to passively observe the manatees.
Do not enter areas designated as "no entry-manatee refuge" zones. These areas have been identified by the Florida Fish and Wildlife Conservation Commission and the U.S. Fish and Wildlife Service as crucial for manatee survival.
Source: USFWS