CREST paraprofessional named state finalist for school-related employee of the year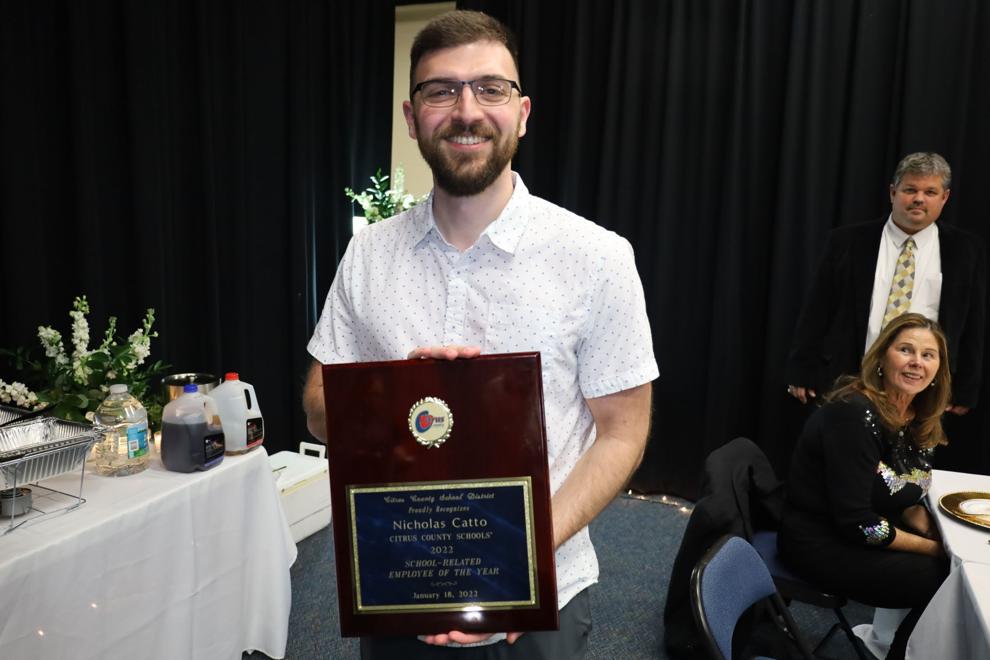 Not only did Nick Catto shine brightest amongst a Galaxy of Stars on Jan. 18, where he was awarded School-Related Employee of the Year for Citrus County, but he outshined stars from all across the state as well.
The Citrus Resources for Exceptional Students in Transition (CREST) paraprofessional was just named statewide finalist among five for School-Related Employee of the Year (SREY) for the state of Florida. This is the third year in a row that a Citrus County Schools employee has been selected as a state finalist.
"Nick Catto has been an excellent employee and an asset to CREST," said CREST principal Lee Mulder. "He bears both a passion for special education students coupled with a dedication to give his best efforts and advice to all students. Nick never waivers in his commitment to the students, school, and district he serves. He goes beyond the call of duty daily."
At CREST, Catto works one-on-one with students with emotional/behavioral disabilities and intellectual disabilities, forging a relationship with them that lasts for years. Unlike typical paraprofessionals, Catto gets to work without the assistance of a teacher due to his years of experience and success with students. It's that uninterrupted solo time with a student that has allowed Catto to make such an impact in his students' lives.
"His willingness to go above and beyond to meet the needs of students and staff members inspires others to work together as a school community," said Superintendent Sam Himmel. "Nick embodies the many qualities that reflect what the Citrus County School District is all about."
Catto has already accumulated seven years of experience in the school district since earning his associate's in early childhood education. He is currently working towards his bachelor's degree at Central State University with hopes of becoming a Teacher on Special Assignment. Catto is also a Registered Behavior Technician and has been trained in Crisis Prevention Intervention.
"I'm just happy that CREST can get the spotlight they deserve, because it's an amazing place. I'm just a part of the wheel," Catto told the Chronicle in January this year.
As a finalist, Catto will receive $6,250 from the state for his outstanding work in the district and will attend a state board meeting later this year to be formally recognized for the award.
For detailed information on his day-to-day work with one of his students, see a past article here: tinyurl.com/4573tssb.
Contact Chronicle Reporter Georgia Sullivan at 352-564-2929.
Contact Chronicle Reporter Georgia Sullivan at 352-564-2929.