Nonprofit Spotlight: Homosassa Civic Club 'building community'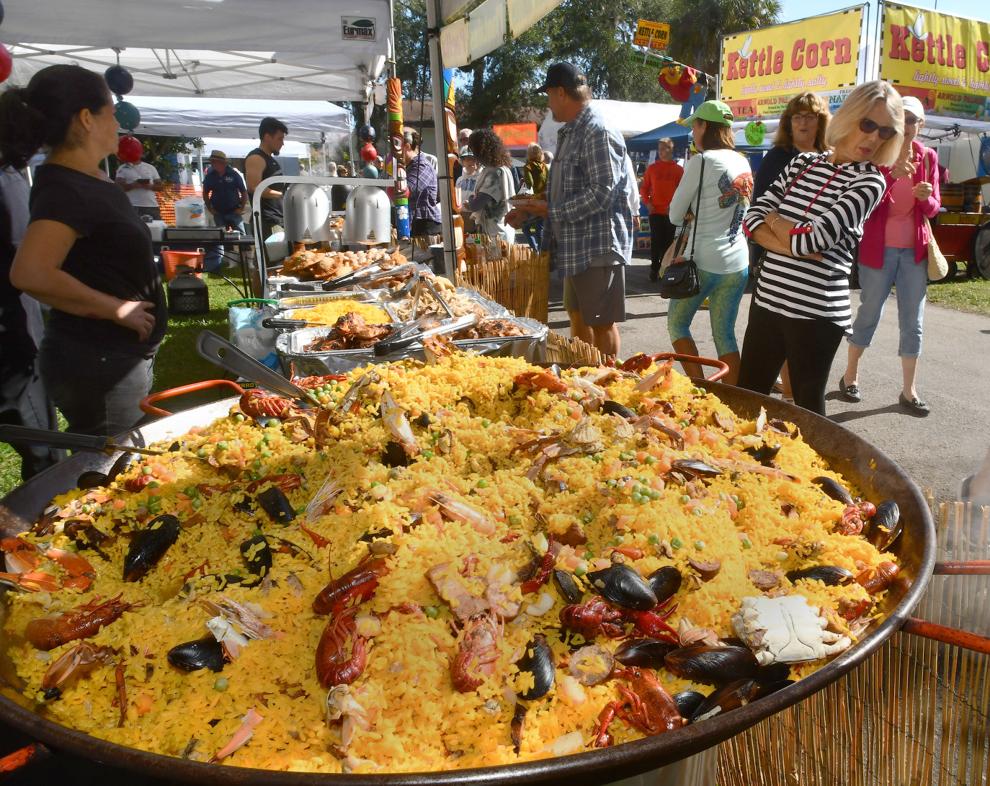 They're the reason thousands of visitors are able to flock to Old Homosassa each November for the annual Homosassa Arts, Crafts and Seafood Festival.
They're the reason people can toss dead mullet in the spring.
They're the reason tens of thousands of dollars are pumped back into the community each year through the organizations they support.
They're the Homosassa Civic Club, with a simple mission: to build the community.
The club started in the mid 1950s and was never very big, said club president Terry Green.
It was a place for potluck dinners and other social activities.
Around 2002, We Care Food Pantry operated out of the club's building for a number of years, and it also served as an after-school learning center for local students.
Today, the civic club has around 200 members, very active members. At a time when many clubs and organizations are dwindling, this club is thriving.
What's the secret?
Green said when he and his wife, Kathy, joined the club in 2015, they would be out walking their dog and would stop to talk to people.
"There are a lot of young retirees moving into the area and younger families with kids," Kathy Green said.
They would tell people about the club, what they do and what they want to do, and would invite them to check the club out.
They also offer childcare at their monthly meetings, which is a boon.
"Our members are very active and we have lots of volunteers at our events," Kathy Green said.
Club community events
The two major fundraising events of the Homosassa Civic Club are the annual Homosassa Arts, Crafts and Seafood Festival the second weekend in November, which nets the club between $60,000 and $80,000, and the Homosassa Mullet Toss and Spring Festival in May, which brings in about $30,000.
Where the money goes
Funds raised by the Homosassa Civic Club benefit: Homosassa Elementary School, Nature Coast Young Marines, CREST school, Homosassa Girl Scouts, Citrus County Education Foundation's Book, Line and Thinkers field trip and the Homosassa River Restoration Project.
The club also provides funds for free WiFi for the local community, Cayla's Coats Life Vest Loaner Stations, senior citizens outreach programs, children's Christmas outreach and party, and holiday meals at a local restaurant for families.
"We used to have a big party for the kids at the clubhouse, but attendance was down, so instead we started doing it at the park with Santa coming in on a boat," Kathy Green said. "We had a magician and a DJ. We had a great turnout, about 70 kids, and everyone was dressed like pirates. Each kid got a bucket of gifts, they got eye patches and they painted buoys – it was so much fun."
The club also has an annual Beri Hagerty-Phelps Memorial $1,000 Scholarship for students and adults who want to continue their education.
Up until this year, they gave out 10 scholarships; this year they are giving out 13.
What else goes on at the club's buildings?
In addition to the clubhouse, the former Homosassa Library building is used as a workstation for
Citrus County Sheriff's Office deputies as well as an office for the club.
The Old Homosassa Learning Center building is used for a variety of activities throughout the week, many of the free of charge:
adult fitness classes.
after-school programs.
music enrichment program.
Sew Cool! Workshop.
tutoring.
summer camp.
Old Homosassa Heritage Park and Working Waterfront
In 2020, through a $1.4 million Florida Communities Trust grant, the club purchased the property where Shelly's Seafood and Fish Market and commercial boat slips are, Terry Green said.
There's also an 80-year-old Cracker house on the property, which will become a heritage museum.
"It will always be a working waterfront," Green said.
What's new?
The club recently announced its newest project: The Old Homosassa Heritage Park Trotter Tract.
Byron Rogers and his wife, Cyndi, a fifth-generation Homosassan, donated 3.5 acres of undeveloped waterfront property to the Homosassa Civic Club.
"This isn't to be developed, but we can turn it into a passive park," Terry Green said.
The site will be an extension of the Heritage park directly across the Homosassa River from it, protected in perpetuity under the Florida Communities Trust grant.
"We're busy," Kathy Green said.
Information
Homosassa Civic Club is at 5530 S. Mason Creek Road, Homosassa.
Mailing address: P.O. Box 493, Homosassa, FL 34487
Phone: 352-628-9333
Email: homosassacivic club@gmail.com
Website: https://homosassa civicclubinc.org
Facebook: www.facebook.com/OHCClub