Moving day is six months away for half the Citrus County Clerk of Courts Office.
All non-court functions — about 35 employees — are moving to the old Inverness health department building on Montgomery Avenue in Inverness, next to Publix.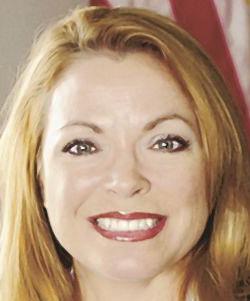 Clerk of Courts Angela Vick said the move will involve employees in finance, official records, passports and audits.
Anyone needing a passport, marriage license or to record an official document will go to the new office.
The move is tentatively set for July 20.
"It'll bring a different dynamic to that area," Vick said.
Vick said 45 of her employees will remain in the courthouse.
Vick offered the move as a way to find compromise in the county's attempts to reshuffle space. The board had considered moving the Supervisor of Elections Office to the Montgomery building; instead, much of the elections office and equipment are headed in 2019 to the West Citrus Government Center at Meadowcrest, near Crystal River.
Coinciding with the elections office move, the county commission will move its offices to share the old Coca-Cola building with Elections Supervisor Susan Gill's Inverness staff. That will free up space in the courthouse for the judiciary and clerk's court-related duties.
Vick also said that she will approach the county commission in January to fund a full-time position related to the county returning fire rescue services to its oversight from the sheriff.
With that move, the clerk's office is responsible for conducting annual inventory for all the fire assets.
She said the office is unable to absorb those duties with the current staff.
"It's just not a job I can do with the resources I have," she said. "I know I'm not going to continue to do that."
Vick said she spoke to three commissioners — she wouldn't name them — and received positive feedback about a new position, which would cost about $35,000 a year.