A Hernando man was arrested last week after boarding a Citrus County school bus and becoming involved in a fight between two Citrus High School students.
Casey McKelvain, 30, was arrested just before 7 a.m. on Wednesday, Dec. 6, in Dunnellon.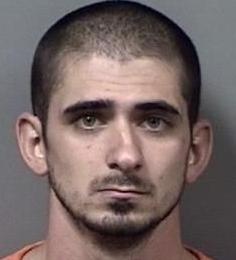 According to an arrest report, the bus was stopped on the side of the road when McKelvain arrived after receiving a phone call from a student on the bus.
When he arrived, he boarded the bus and witnessed a fight between the student who had called him and another student. He intervened by grabbing the arm of the other student and, according to the report, told that student that he would break the student's arm. McKelvain then left the bus with the student who called him, and both waited in McKelvain's vehicle for law enforcement to arrive.
During the incident, the bus driver notified a dispatcher of the situation and law enforcement was called to the location of the bus. After speaking with witnesses and McKelvain, McKelvain was arrested for one count of battery and one count of trespass on school property. His bond was set at $6,000.
Citrus County School System Transportation Department Coordinator Marilyn Farmer said the bus driver acted according to policy.
If a non-student adult boards a school bus without permission, the bus driver should ask them to leave the bus, Farmer said.
"Which happened in this case — the driver did give that direction," she said. "If there's difficulty or they refuse… they radio in, which he did on that morning as well."
Those radios are also monitored by Farmer and other district staff, she said; they would intervene if the initial call was not addressed immediately by a dispatcher.
"The driver handled this as he should have — he immediately notified dispatch, and dispatch notified the authorities," said Assistant Superintendent Jonny Bishop. "The bus is no different from any other school property. Our first concern is the health, safety, and welfare of our students. When something is done that's not in line with those things, we have to take corrective action."